Pasti agan-aganwati udah ngga asing lagi sama fitur yahoo yang atu ini, yaitu yahoo messenger biasa disingkat YM. Dulu memang YM sempet booming, bahkan nyampe skrg masih ada pengguna setianya.
Kemaren sih, ane iseng iseng buka YM gue. Pas dibuka, udah berdebu gitu . Terus ane teringat hal yang dulu sering ane kerjain. Ya, ngga laen ngga bukan yaitu ngeroom. Biasalah buat ngusir kejenuhan setelah UAS, sama buat menambah teman ngobrol yang dapat memperluas pengetahuan. Hehe
Padahal niat aslinya mau nyari cewe terus kojom dah (Istilah buat mojok sesama chater laen) Tapi ada yang aneh gan. Waktu ane mau masuk ke room chat yahoo, ngga ada pilihan buat masuk kesana, alias ilang. Ane sempet bingung, apa YM ane bermasalah, ato apa. Akhirnya gue nyari deh d mbah google, dan ketemu di blog reminya yahoo www.ymessengerblog.com . Dan ternyata yahoo telah menutup beberapa fiturnya gan, padahal menurut ane ntu termasuk fitur utama mereka






Pernyataan langsung dari Yahoo Inc.




Quote:

Yahoo! Messenger public chat rooms discontinuing on Dec. 14th
In order to focus on providing great new features for Yahoo! Messenger, we are discontinuing some Messenger services, including our public chat rooms on December 14. We know that some long-term Yahoo! Messenger users still enjoy these topic-based communities, however we feel that by embracing the modern technologies and platforms available today, Yahoo! will uncover better ways to foster meaningful communities and connections with the people you care about.

Ternyata ngga hanya Public Chat Rooms yang ditutup, ternyata 3 fitur laen juga di closed, antara lain: Yahoo Messenger Pingbox, interoperability with Microsoft Windows Live Messenger, Yahoo Voice Phone In and Phone Out feature

Yahoo Messenger Public Chat Rooms


Quote:




Yahoo! Messenger Public Chat Rooms akan resmi ditutup pada tanggal 14 Desember 2012. Pada masa ini otomatis semua public chat rooms akan ditutup oleh Yahoo sehingga tidak dapat diakses lagi.
Yahoo Messenger Pingbox
Quote:
Pada tanggal 14 Desember 2012, Yahoo Mesenger Pingbox yang biasanya digunakan sebagai buku tamu atau guestbook pada blog-blog serta sosial media juga dilakukan penutupan. Yahoo juga menyarankan blogger untuk uninstall fitur tersebut jika terdapat di blognya sebelum tanggal yang ditentukan.
Yahoo Messenger interoperability with Microsoft Windows Live Messenger
Quote: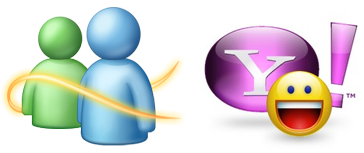 Penonaktifan juga terjadi pada fitur Microsoft Windows Live Messenger pada tanggal 14 Desember 2012. Pada masa tersebut semua list teman dalam contact list masih tersedia namun dengan status non-aktif (berwarna abu-abu) dan semua pesan yang Anda kirim akan otomatis gagal terkirim.
Yahoo Voice Phone In and Phone Out feature
Quote:

Salah satu fitur yang dinonaktifkan oleh Yahoo adalah Voice Phone In and Phone Out feature yang dimulai pada tanggal 30 Januari 2013. Pada masa itu Yahoo tidak lagi menyediakan layanan telepon. Pihak Yahoo juga menyatakan bahwa mulai akhir November kemarin, pengguna layanan ini juga sudah tidak dapat menambahkan pulsa pada akunnya lagi, dan bagi pengguna yang masih memiliki pulsa (balance credit) maka bisa menghubungi jajah.com untuk meminta pengembalian (refund) atas credit yang masih tersisa


Tujuan penutupan ini sih buat meningkatkan mutu pelayanan yang akan dikasih oleh yahoo.
Memang cukup disayangkan karena fitur-fitur diatas sudah mendapat tempat di hati YM user #lebay. Tapi Yahoo pasti akan meluncurkan fitur baru yang lebih wow gitu
I just wanna say "Good bye Public Chat Rooms Yahoo Messenger"


sumber | iniunic.blogspot.com | http://www.kaskus.co.id/thread/50d1c1a148ba54c91300006c