Sonali Mukherjee pernah menjadi korban kekerasan. Wajahnya rusak karena siraman air keras. Namun peristiwa itu tak membuatnya mengurung diri. Bahkan kini dia mendadak jadi jutawan. Bagaimana kisahnya?

Diberitakan AFP, Minggu (23/12/2012), Sonali mengalami kerusakan di wajah pada tahun 2003 lalu karena ulah 3 rekannya sewaktu menjadi mahasiswa. Padahal saat itu, Sonali adalah seorang mahasiswi yang cukup berprestasi di Universitas Dhanbad, India.

Para mahasiswa bejat itu masuk diam-diam ke dalam rumahnya untuk memperkosa. Namun karena Sonali melakukan perlawanan, para mahasiswa itu menyiramnya dengan cairan air keras bernama 'Tezaab'. Wajahnya rusak, terutama di bagian mata, hidung dan telinga.

Meski sudah menjalani operasi kulit sebanyak 22 kali, Sonali tetap buta dan sedikit terganggu pendengarannya. Ketiga pelaku berhasil ditangkap, namun mereka bisa bebas tak lama kemudian dengan uang jaminan.

Beberapa waktu lalu, wanita 27 tahun tersebut pun akhirnya muncul kembali di layar kaca. Bukan sebagai korban, namun peserta kuis yang paling terkenal di India, 'Kaun Banega Crorepati' atau dikenal dengan 'Who wants to be a millionaire'. Dia pun berhasil mendapatkan hadiah utama sebesar 2,5 juta rupee atau US$ 45.000 setelah berhasil menjawab 10 pertanyaan.

Keinginannya untuk mengikuti kuis itu memang kuat. Terutama untuk membantu biaya pengobatan dan operasi tubuh yang tak sedikit. Dia pun akan segera melakukan operasi kulit tambahan setelah mendapat uang tersebut.

"Jika Anda bisa melihat gambar seorang wanita cantik, saya yakin Anda juga bisa melihat wajah saya yang terbakar," kata Sonali kepada AFP.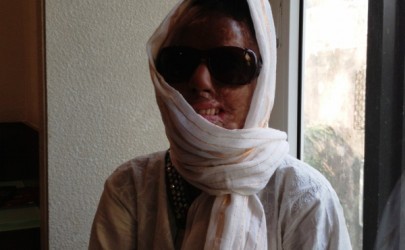 "Saya memenangkan uang tapi saya butuh lebih banyak untuk pengobatan saya," sambungnya.

"Sangat mudah bagi korban kekerasan air keras seperti saya untuk diam dan menelan semuanya. Namun saya memilih untuk berdiri dan berteriak melawan kekerasan," lanjutnya.

Kisah Sonali membuat jutaan penonton acara tersebut terharu. Mereka menganggap Sonali adalah pembangkit semangat perempuan di India untuk melawan segala bentuk kekerasan. Air mata penonton di studio pun berjatuhan.

"Kadang kita pikir, hidup kita sudah cukup menderita, semua hal sepertinya tak sesuai dengan keinginan kita. Namun saat kita bertemu dengan Sonali, kita sadar betapa beruntungnya kita," ujar sang pembawa acara tersebut, Amitabh Bachchan.

India memang cukup dikenal dengan angka kekerasan yang tinggi terhadap perempuan. Data kejahatan nasional menyebutkan, 228.650 dari total angka kejahatan 256.329 yang terjadi di India, menimpa perempuan.
Courage: Sonali, who was a promising student before the attack in 2003, was praised by the show's host Amitabh Bachchan for her bravery
Special episode: Sonali appeared on a special edition of Who Wants to be a Millionaire? which featured contestants who had shown courage in the face of adversity
Tragic: Sonali walks with her father Chandi Das Mukherjee at her home in New Delhi. Her attackers have never been brought to justice with three spending several months in jail before being released.
sumber |
iniunic.blogspot.com
| http://news.detik.com/read/2012/12/23/121152/2125552/1148/kisah-wanita-korban-kekerasan-di-india-yang-mendadak-jadi-miliuner?991101mainnews